Your Guide to a Great 4th of July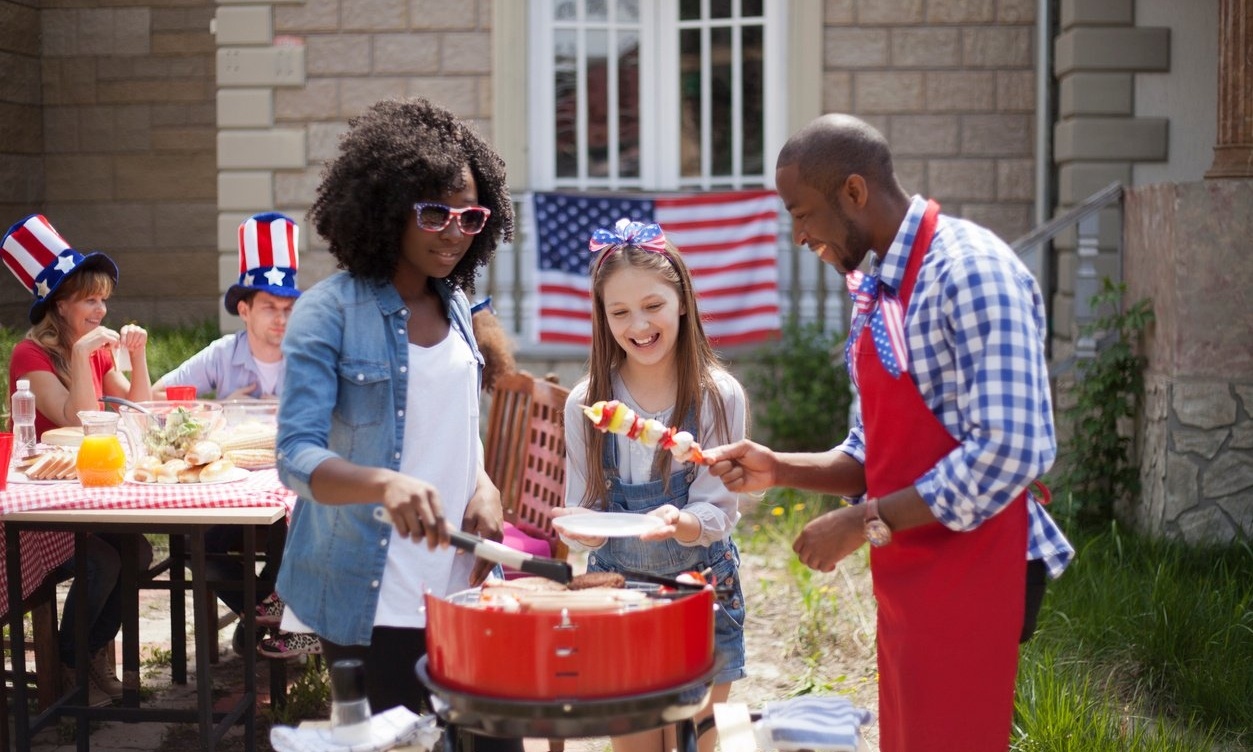 Do you have 4th of July plans ironed out yet? If you're having people over, but don't want to stress about menu planning or décor ideas, we have curated a list of food and decorations that will make your party a blast.
4th of July Savory Recipes
No 4th of July is complete without hot dogs. But instead of simply serving one of America's favorite foods with the regular ketchup and mustard, build a toppings bar. It's an easy way to dress up the classic, and it doubles as décor!
Image source
Kids might not be interested in all of the fancy toppings, so for them, consider ditching the bun altogether and opting for crescent roll dough. Then you can make these adorably awesome firecracker hot dogs that the kids won't get enough of.
Nothing goes quite as well with hot dogs and grilling than a delicious potato salad. Ashley from CenterCutCook recommends mixing up this tempting tater salad the night before so all of the flavors can mingle. Before you serve it, make sure to add bacon and cheese.
Image source
If you want to incorporate patriotic colors into your main meal, it's pretty simple to dye noodles red and blue. Then add mozzarella cheese for your white, and toss in some veggies for a delicious and patriotic pasta salad.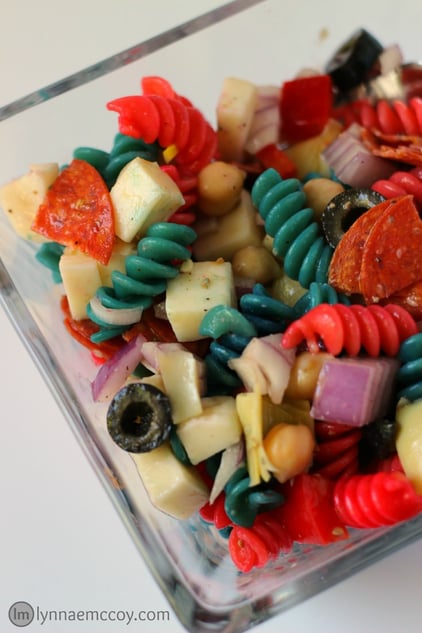 Image source
4th of July Sweet Recipes
Rice Krispies Treats, candy melts, sprinkles, and straws are all you need to make these cute Rice Krispies Pops. If you're so inclined, you can make the Rice Krispies Treats at home. But you could also save yourself some time and unwrap store-bought ones!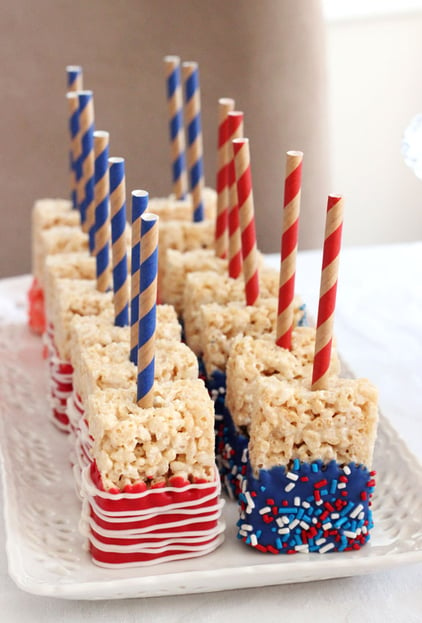 Image source
Are Oreo cookies more your speed than Rice Krispies Treats? No problem! Affix a stick in between the two sandwich cookies and dip the Oreo in white chocolate. Then dip the Oreo pop in some sprinkles, and you have an easy treat that the kids can't resist!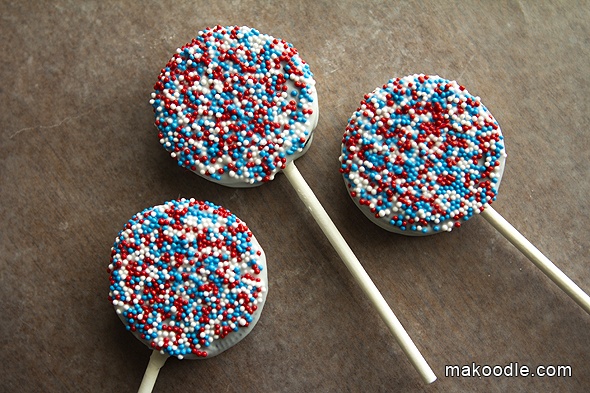 Image source
Make a slightly healthier dipped dessert with these Red White and Blue Frozen Bananas. Assemble your bananas, lollipop sticks, chocolate melting wafers, candy melts, and sprinkles, and you can crank out this sweet treat in no time.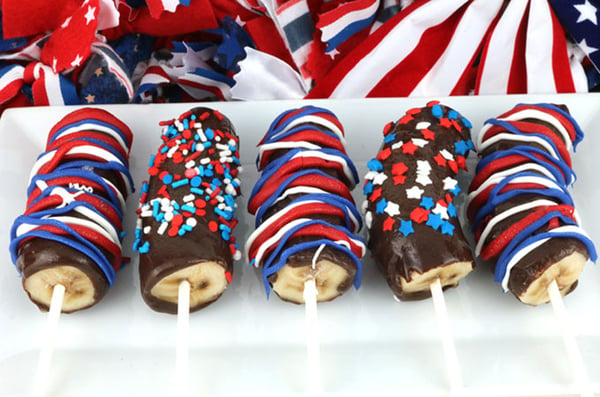 Image source
Moving away from a dipped dessert, but into something just as delicious, you can buy a box of cake mix, some ice cream cones, and a container of frosting and make these Ice Cream Cone Cupcakes. They're easier to eat than a cupcake, and they're cute!
4th of July Décor Ideas
If you have some extra mason jars lying around, make them patriotically perfect for any 4th of July celebration. Just grab some acrylic paint, washi tape, and a star stamp. If you like a distressed look, take some sandpaper to them when they're dry.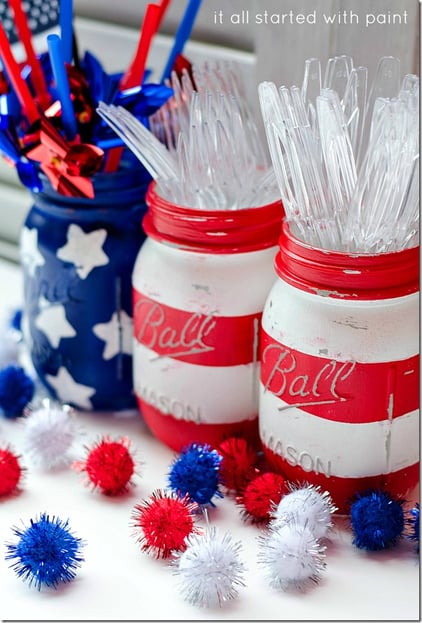 Image source
You don't have to have a crafty bone in your body to have a great centerpiece, and it doesn't have to cost a lot! This centerpiece idea costs a whopping $6 and uses champagne flutes, pinwheels (fun for everyone), and red tissue paper.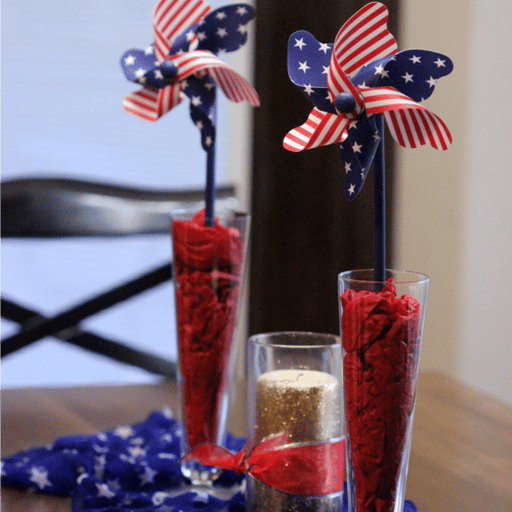 Image source
Plastic cups, scissors, a hole punch, and ribbon is all you need to make fun and festive decorations for your 4th of July party! They might be a little hard to start cutting, but once you get the top of the cup off, your kids can take it away with the twirling.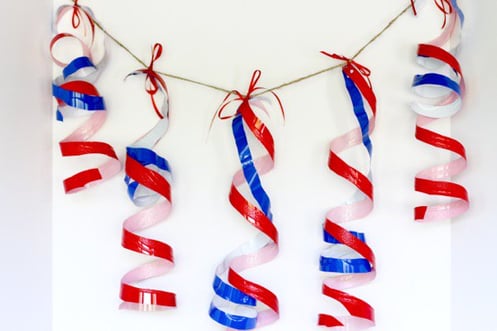 Image source
So simple, so easy, and yet, you've probably never thought of decorating by painting on your lawn! Make a star stencil in a big piece of cardboard and use construction marking spray paint to paint red, white, and blue stars all over your lawn.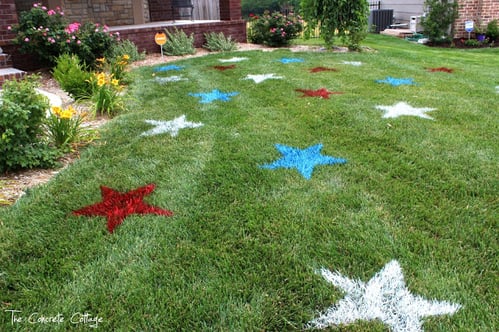 Image source
See, there's no need to worry about planning your party. Just use these recipes and ideas and enjoy the 4th of July with friends and family.
Next Steps:
For even more 4th of July ideas, follow our Pinterest board!
Do you have any 4th of July traditions? Tell us about them in a comment below.