Getting Active and Healthy During American Heart Month
It's no secret that January is a big month to get fit. People set their New Year's Resolutions, they feel motivated, and a good deal of them will even purchase a gym membership during the first month of the year. But, as with most New Year's Resolutions, the quest to get in shape can become overwhelming and tiring— what can you expect, you're an incredibly busy parent! —and is soon abandoned.
If you fall into this camp, don't be discouraged. You might just need to take a step back and evaluate how you will reach your goals for the year. And there's no time like February, which is American Heart Month, to start making a new plan.
Don't worry if you're not sure exactly where to start. We've put together some tips and ideas for you to get more active, and, bonus, how to do it without breaking the bank! Now, it's going to take a little bit of money if you're starting from square one, but you can use scrip gift cards to pay for practically everything and earn money at the same time!
Dress the Part
You've undoubtedly heard the expression "dress for the job you want, not the job you have." Well, consider getting active the job you want! Dressing the part can be a positive motivator to get up and get moving. In fact, there is psychology around clothing called enclothed cognition, where you experience a shift in your mentality based on the clothes you're wearing. So, if you put on some fresh new workout clothes, you will feel more active or athletic and could perform better.
If this means you need to overhaul your wardrobe, you might already know where you want to go shopping for workout gear… and a little bit of everything else. Good news is you can earn a 2.5% rebate if you use scrip when you're putting way more in your cart than you expected at Target. If you enjoy shopping at sporting goods specific store, chances are, ShopWithScrip offers those retailers in a great rebate too! Check out available retailers by selecting Sporting Goods under 'Categories' on the Shop page.
Skip the Gym Membership
While some people like paying for a gym membership because it holds them accountable, others find they're too busy to make going to the gym work. And if you've got kids at home, you might even struggle to find time to eat! Eliminate the pressure to purchase a gym membership and start squeezing in at-home workouts instead.
At-home workouts might sound intimidating, but did you know how many exercises you can do at home just with your body weight? Honestly, if you're new to working out, this is a great place to start since you can go at your own pace. Both Pinterest and YouTube have a ton of different workout routines you can follow for free that require no or just a little equipment.
Invest in Equipment
If you're a little bit above the bodyweight exercise level, consider investing in a few pieces of workout equipment to help incorporate some variety into your routine. While you could save up for a treadmill or elliptical, start small with some at-home exercise equipment staples like yoga mats, dumbbells, foam rollers, and resistance band sets. Again, if you make these purchases with scrip, you can earn anywhere from 2.25 to 13% in rebate earnings for your organization, which makes for a healthy wallet!
Want to get a personal trainer feeling right at home? There are tons of apps you can download from Apple iTunes or Google Play stores that will keep you on-track and motivated. A lot of these apps are free to download, but if you want to reach the next level, you might want to shell out a couple of dollars. Luckily, ShopWithScrip carries both Google Play and iTunes scrip, so you can earn on your app purchases.
Keep Your Kitchen Full
You can't have a healthy lifestyle and take care of your heart without being mindful in the kitchen. This doesn't mean going on a diet, though, since most diets don't work and aren't sustainable! Instead, focus on cleaner eating and limiting your family's processed food intake across the board.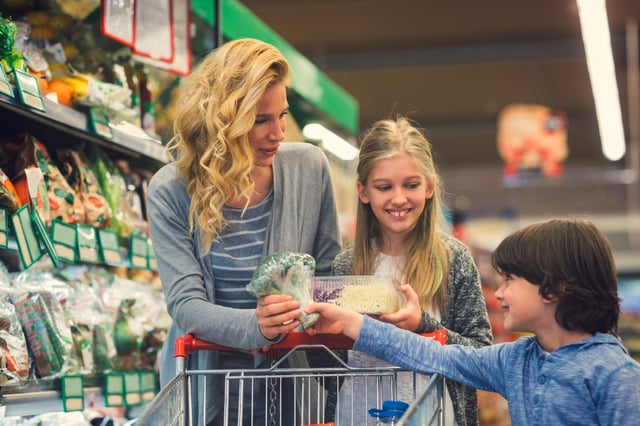 It might seem difficult at the beginning as you will have to dedicate some time to plan out healthy meals instead of relying on the easy boxed food at the grocery store. It also might be a little pricier if you make the switch to buying healthier versions of your everyday staples, but there are lots of ways to save money on your grocery bill.
After stocking your fridge and pantry with healthy options, you might find a good reason to purchase a kitchen appliance or two that will help make mealtime easier (we're looking at you, Instant Pot!). You can even use scrip on that purchase to earn rebates in every facet of your new healthy lifestyle!
Getting active and living well while on a budget doesn't have to be a challenge. Take some of these tips into consideration to make February the best American Heart Month yet!
Next Steps:
Want to learn more about earning on all of your active lifestyle purchases with scrip? Download our free Info Kit!
Do you have tips for getting active? Leave them in a comment below!