Weeknight Dinner Recipe Meal Prep Made Easy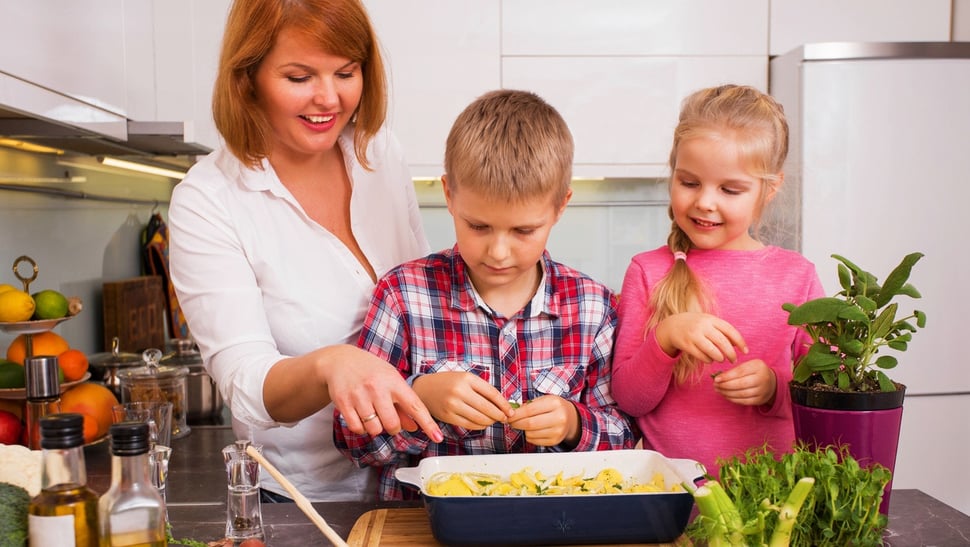 It's March, and the faintest of lights are shining at the end of the school year tunnel. You and your family have been in a routine for a while, and let's face it, things like family dinner time have probably started to get boring or swept to the side completely given your busy schedule. If this sounds like your family, don't lose faith and muddle through the last few months of school. Turn to the solution that will spruce up your dinner ideas and save you tons of time and exhaustion: weeknight meal prep.
Meal prep can seem like a daunting task if you've never done it before. If you're hesitant about starting a prep plan, think about all the time you spend every day of the week looking at your refrigerator, pantry, and freezer trying to find something to throw together. How many times have you settled for another box or two of macaroni and cheese or a pizza when nothing came to mind? Prepping your meals for the week can help you get out of this rut. You'll be able to make healthier homemade meals, and it will give you more time to spend with your family.
Some of the quick keys to meal prep are finding dinner recipes your whole family will enjoy and buying a weeks' worth of meal ingredients to prep on Sunday. It will take a couple of hours to complete your meal prepping, but that's time that you'll save all week long.
Now that you've got the basic idea we can dive into some tips to help you succeed in weeknight meal prep!
Embrace Your Crock Pot
Busy parents have been saying this for years: a crock pot is your best friend in the kitchen. The appliance was made with families in mind so you could dump in your food, let it cook itself, and then you enjoy a home cooked meal with your family come dinner time. Your crock pot can also be a big player in weeknight meal prep.
Sure, you could simply add all of your ingredients to the crock pot in the morning, but you could also maximize your time and spend 45 minutes to an hour on a Sunday preparing a stock of meals for your crock pot. There are countless recipes that you can prep by placing the ingredients in a zip top bag and freezing them until you need them.
The Seasoned Mom put together a list of three healthy slow cooker meals that she made a double batch of, which means she had six meals prepped and ready to go in just 45 minutes. Double batching is a great method when it comes to crock pot meals. Carrie, from Eating on a Dime, prepped even more and made ten full crock pot meals in an hour, which you could double batch to make 20 meals!
Freezer Over Fridge
Clearly, if you utilize your crock pot to its full potential, you're going to need some freezer space. Melissa at Everyday Savvy put together a list of tips to make your favorite meals, including crock pot meals, freezer-friendly. For crock pot meals, she suggests cooking any ground meats before you freeze them to preserve their texture, skip freezing pasta or rice that's a part of a dish, and laying the full zip top bags down on a cookie sheet, so they lay flat and are easily stackable.
While freezing meals before you make them can save you loads of time in the kitchen, you can also make a big batch of food and freeze part of it for another day. While this doesn't save you time in the present, it is nice to simply reheat a meal when life is getting a little chaotic. Try these 20 Make-Ahead recipes for starters, or the original one-dish meal, a casserole, and remember once you've prepared the food to let it cool completely before putting it in the freezer, and to put the date you made the food on the container.
Still worried about freezing foods? The USDA has a comprehensive fact sheet that can ease your mind.
Customizing Your Meal Prep Plan
There are tons of meal prep plans on blogs and Pinterest, and they serve as a great jumping-off point. But if you can, devote some time to plan out how you can prep your family's favorite meals and find new recipes to switch things up.
If you take this route, you can customize your meal plan with dinner recipes that fit your family's diet and that your kids will actually eat, and that won't break your budget. Putting in this time will help meal prepping stick.
Even if you can't physically prep your meals on the weekend, or you'd rather just expedite the dinner time prep work, make sure you have meals thought out so you grocery shop once for the week and have everything you need. Follow quick and easy recipes that don't take more than a half an hour from start to finish, or one-pot and one-pan meals that cut down on clean up time.
Weeknight meal prep is whatever you make it, but as an article in Parents stated, there are five commandments of planning ahead:
Take 15 minutes on weekends to map out the week's meals.
Create two or three weekly dinner menus and rotate them.
Organize grocery shopping so there is always something in the house.
Prepare as many meal elements as possible over the weekend.
Preheat your oven when you walk in the door if you need it for a meal.
Following these commandments and using shortcuts like cooking pasta for the entire week or buying a rotisserie chicken at the store to use in your recipes will make meal prepping a breeze.
So stop scouring the pantry for subpar dinner ideas. Finish out the last months of the school year strong and start weeknight meal prepping so you can spend your free time with your family!
Next Steps:
For more recipes, follow us on Pinterest.
Meal delivery services, like Chef'd, are also great options for meal planning!