Untraditional Thanksgiving Dessert Recipe: Pumpkin Cheesecake Bars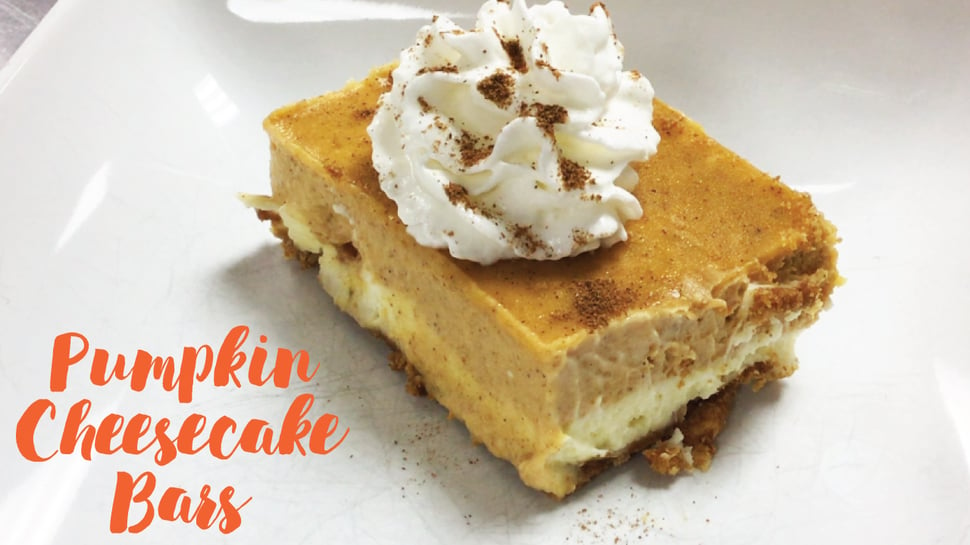 There are many stars on a table at Thanksgiving. The mashed potatoes, green bean casserole, cranberry sauce, and the centerpiece of it all, the turkey. What everyone is really interested in, though, is the dessert. Although you've indulged in all of the savory sides, your sweet tooth waits to be satisfied. Instead of serving up the traditional pumpkin pie this year, how about trying something different and jazzing up the classic Thanksgiving dessert.
We were on a mission to find the tastiest unconventional recipe, and once we saw these pumpkin cheesecake bars from a trEATs affair, and we knew we had to try them for ourselves. Be warned— these take a good amount of time to come together after they've baked, so patience is a key to this recipe! But trust us, they're 100% worth the waiting.
What you need:
Crust:
1 ½ cups graham cracker crumbs
¼ cup melted butter
Filling:
4 8 oz packages of cream cheese, softened
1 ½ cups granulated sugar
4 eggs
1 cup (8 oz) canned pumpkin
2 teaspoons pumpkin pie spice
Extras:
Whipped cream and a sprinkle of pumpkin pie spice
Instructions:
Heat the oven to 300°F.
Line a 9X13 baking pan with parchment paper.
Make graham cracker crumbs by placing full graham crackers into a Ziploc bag and crushing with a rolling pin.
Combine graham cracker crumbs with melted butter. It won't be saturated.
With your fingers or a spoon, press the crumbs into the bottom of the pan— don't worry, it will be thin, just make sure there are no holes.
Using a mixer, add cream cheese and sugar and mix until it's fluffy.
Add the eggs one at a time.
Spread half of the mixture over the crust.
Add the pumpkin and pumpkin pie spice to the remaining filling and stir it together with a whisk.
Add the mixture to the pan and spread it evenly.
Bake the cheesecake bars for 50 minutes.
Take them out and let them cool for 1 hour, then place them in the refrigerator for 2-3 hours.
Cut the bars and top them with whipped cream and a sprinkle of pumpkin pie spice.
Next Steps: