Swap Your New Year's Resolutions for a Bucket List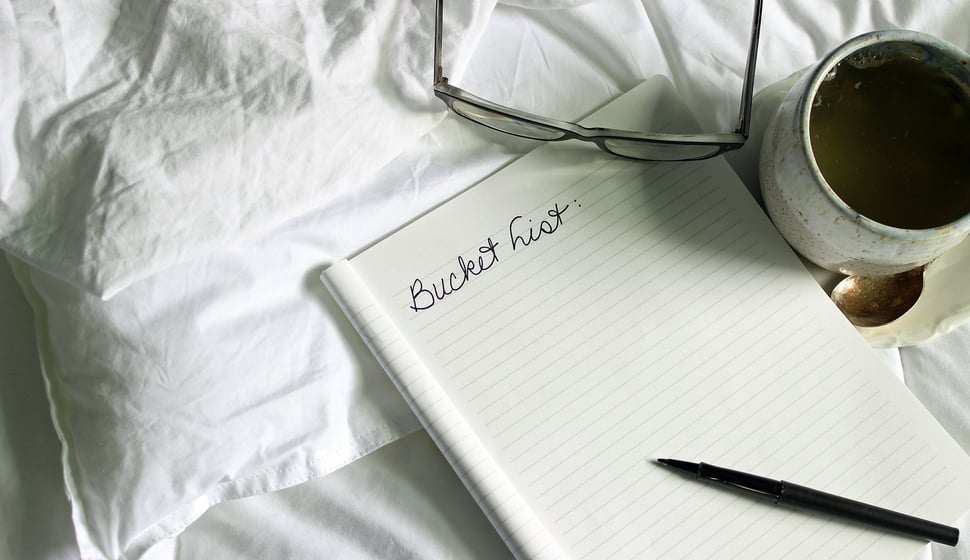 Do you have your New Year's Resolutions drafted for 2018? Most likely, you're not very excited for the list you created and wished such a tradition didn't even exist. How about exchanging your resolutions for a bucket list!
Instead of having almost all negative tasks you think you need to accomplish this year, have a bucket list that will make you excited for all 2018 has in store. Need convincing before you make the switch? Here are some reasons why you should consider a bucket list this year.
New Year's Resolutions vs. Bucket List
New Year's Resolutions are defined as things you want to do in the coming year to improve yourself. They tend to be goals, like losing 20 pounds, not drinking soda, not eating sugar, drinking more water and they're pretty black and white with no in-between.
A bucket list, however, is a list of things you want to do within your life that have a positive spin. Things like traveling to New York, going to a drive-in theatre, writing a book, or going on a mission trip. Plus, a bucket list doesn't have a yearly deadline. If you don't complete something in 2018, you can revisit it over the years. You can even take a resolution and break it into a bucket list task, like running a half marathon, creating a vegan recipe, or starting a workout class.
Why New Year's Resolutions Aren't the Best Idea
While well-intentioned, New Year's Resolutions can fall apart quickly. In fact, only 8% of people actually follow through on them! Sure, they're a way to change your bad habits and can be beneficial, but resolutions can easily accumulate and what looks good on paper becomes an unhealthy and unrealistic list.
The goal of setting New Year's Resolutions is to be better off in the new year, but unfortunately, resolutions are abandoned after a few weeks and never touched again until they're put on the following year's list. Why go through that every year when you can create an ongoing bucket list which is more positive and exciting.
What Goes on a Bucket List?
While a bucket list can include smaller tasks from your New Year's Resolutions, the purpose is to have reachable goals or activities you want to complete. Plus, you get the satisfaction of crossing items off the list! Your bucket list doesn't just have to be for 2018, there is no expiration for a bucket list, and it doesn't need to be written negatively, like "lose weight," or "stop eating sugar."
The idea is to accomplish any dreams you have big or small. Whether that's to learn a new language or binge watch the entire Harry Potter series, a bucket list is meant to be fun and exciting. And at the end of 2018, you can see how many fun things you've done throughout the year.
Whether you choose to have New Year's Resolutions or a bucket list this year, be sure you keep your list positive, reachable, and exciting!
Next Steps:
Comment below with what you have on your bucket list for 2018!

Is saving money on your list? Use ShopWithScrip gift card fundraising to help reach your goals! Learn more by downloading our free starter kit.