Super Bowl Party Cheese Ball Recipes: Savory vs. Sweet Showdown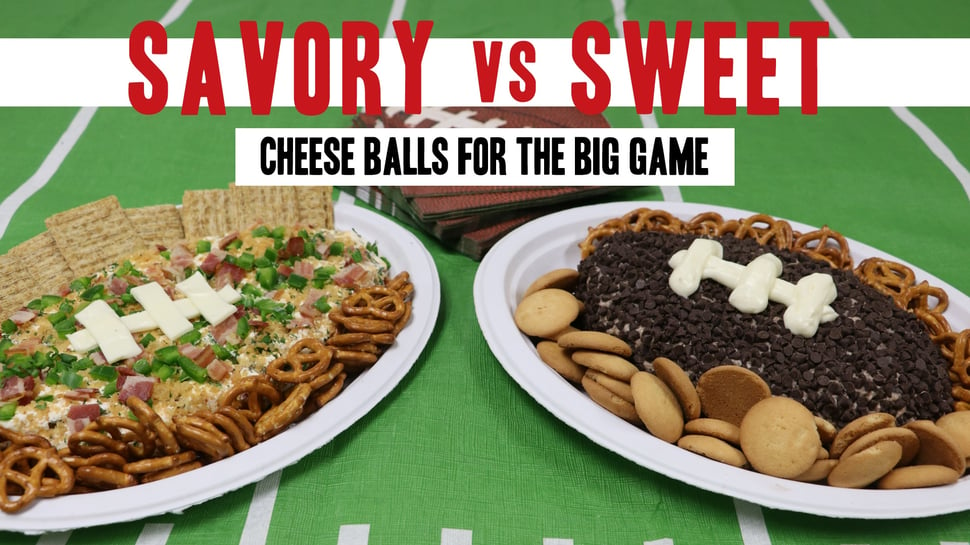 Super Bowl Sunday is almost here, and as you're getting ready for hosting or attending a party, you might be racking your brain for a fun recipe to make. We did some research on our end and found two delicious cheese ball recipes that can be the end zones of your smorgasbord.
Playing for Team Savory is the Jalapeño Bacon Cheese Ball, while the Cookies and Cream Cheese Ball takes the field for Team Sweet. And the fun thing about this game of cheese balls? Everyone is a winner because they both are delicious!
Jalapeño Bacon Cheese Ball
Here's what you need:
- 16 oz of cream cheese (2 packages)
- 8 oz sharp cheddar cheese
- 1/3 cup diced pickled jalapeños
- 1/2 tsp garlic powder
- pinch of salt
-1/4 cup chopped green onion
- 6 slices of bacon, cooked and cut up
- 1/3 cup toasted panko breadcrumbs
- 1 tbsp dried parsley
- 2-3 fresh jalapeños (1/4 cup finely chopped)
- 1 slice of mozzarella or white cheddar cheese
Instructions:
1) Combine cream cheese, cheddar, pickled jalapeño, garlic powder, salt, half of the bacon, and 2 tbsp of green onion.
2) Scoop cheese mixture onto parchment paper and shape into a football. Place in the refrigerator for 20 minutes to firm up.
3) Take out cheese ball and top with toasted panko, parsley, jalapeño, and bacon and pressing them into the cheese ball.
4) Add laces made out of cheese, plate the cheese ball, add the munchies (we suggest Triscuit crackers and pretzels), and serve!
Recipe inspiration from Peas and Crayons
Cookies and Cream Cheese Ball
Here's what you need:
- 8 oz cream cheese (1 package)
- 1/2 cup unsalted butter
- 2 cups powdered sugar
- 2 tbsp chocolate syrup
- 18 Double Stuf Oreos, crushed
- 1 cup mini semi-sweet chocolate morsels
Instructions:
1) Combine the softened cream cheese and butter until creamy. Add powdered sugar and combine thoroughly. Reserve 2 tbsp in a snack bag for piping the laces.
2) Mix in the chocolate syrup and the crushed Oreos, then transfer the mixture into a plastic wrap lined bowl.
3) Wrap the plastic around the cheese ball and refrigerate it for an hour.
4) Unwrap the cheese ball and shape it into a football. Cover it with chocolate chips and pipe on the laces. Then add dippers (Nilla wafers, and pretzels) to your plate and serve!
Recipe inspiration from Shugary Sweets
Try out both of these cheese balls and leave us a comment below with your savory vs. sweet showdown winner!
Next Steps: