St. Patrick's Day Recipe: Pot of Gold Cupcakes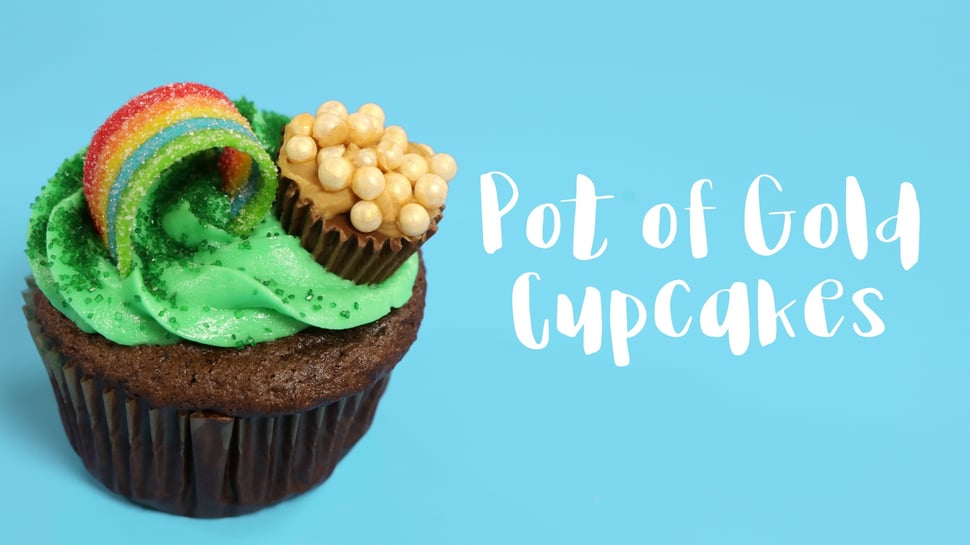 Are your kids requesting all things green for St. Patrick's Day? Now you can make them happy without using tons of food dye with this magically tasty cupcake.
While these cupcakes look like they take a baking professional to put them together, rest assured that they're not as difficult as they seem. If you want to cut corners, you could just buy chocolate cupcakes with green frosting at the store, which is what Rebecca from Sugar & Soul did when she originally made these. Baking the 24 cupcakes at home, though, is absolutely worth it!
What you need:
Cupcakes:
1 Box of chocolate fudge cake mix
1 pack of Jell-O instant chocolate pudding
1 cup sour cream
¾ cup vegetable oil
4 eggs
½ cup milk
1 tbsp vanilla extract
Mini chocolate chips

—

eyeball this and add as many as you want!
Buttercream Frosting:
1 cup of unsalted butter
4 cups powdered sugar
1 tsp vanilla extract
4 tbsp heavy cream
5+ drops of green food coloring
Pot of Gold:
24 miniature peanut butter cups
¼ cup of peanut butter
1 container of candy pearls
1 package airheads extremes rainbow berry
Instructions:
Combine all cupcake ingredients and fill the pan ¾ of the way full.
Preheat the oven to 375°F but drop it down to 350°F when you put the cupcakes in. Bake the cupcakes for 18-22 minutes, or until a toothpick comes clean.
While cupcakes bake, mix butter and sugar on low. Continue to mix while adding vanilla and heavy cream.
Stir green food coloring into the frosting and once cupcakes are cool, pipe on frosting.
To make the pots of gold, put a thin layer of peanut butter on top of the peanut butter cup. Stick candy pearls on it and place more pearls on top after adding a bit of peanut butter.
Place the pot of gold onto the cupcake, then stick the airhead in the frosting to form a rainbow— they might need to be cut to stay in place.
Enjoy!
Next Steps:
Need more St. Patrick's Day inspiration? Check out our Pinterest board!
You can earn a few dollars on everything you need for this recipe if you purchase ingredients with scrip. Learn more here!