Spring DIY Home Improvement Projects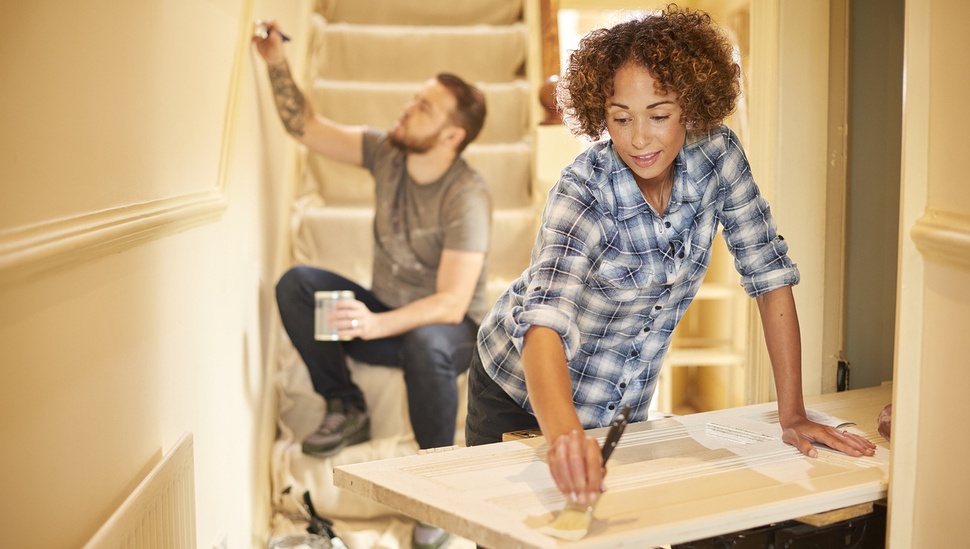 It doesn't matter if you're a DIY junky or you're looking to get started, once that spring fever sets in, you'll probably want to roll up your sleeves and make your house beautiful. But where do you even begin these home improvement and DIY projects?
Some will take to Pinterest, and others will set a budget to make sure their DIY spending doesn't break the bank. Luckily for those running a scrip fundraising program for their school or nonprofit organization, they can order gift cards for ShopWithScrip's popular home improvement retailers and raise money while giving their house an update.
If you have a list of maintenance to-do's you need to check off first, take a look at this infographic from Foundation Repair Services that lists common issues and their solutions. If you're ready to dive right into the more fun projects, you can see our ideas on where to start here.
Common House Problems & Solutions Checklist created by Foundation Repair Services
Painting
Painting is a great way to spruce up a room without a ton of hassle and work. You might have painted all the time as a kid during arts and crafts, but now it could be a fun and rewarding project to give your house the TLC it deserves.
Although painting is pretty easy on the DIY scale, there are essential steps to follow so you can do the best job possible. Popular Mechanics laid out 13 painting secrets the professionals won't tell you, including using a tinted primer and a paint extender. Also, don't bother taping off your windows! I know, pretty mind-blowing.
If you've never done extensive house painting before, check out this post from the blog Refunk My Junk that lays out the steps for giving your room a colorful makeover.
Don't limit your painting borders to the walls of your house. Did you know you can easily paint that atrocious linoleum floor in your laundry room? Talk about a money and eye saver.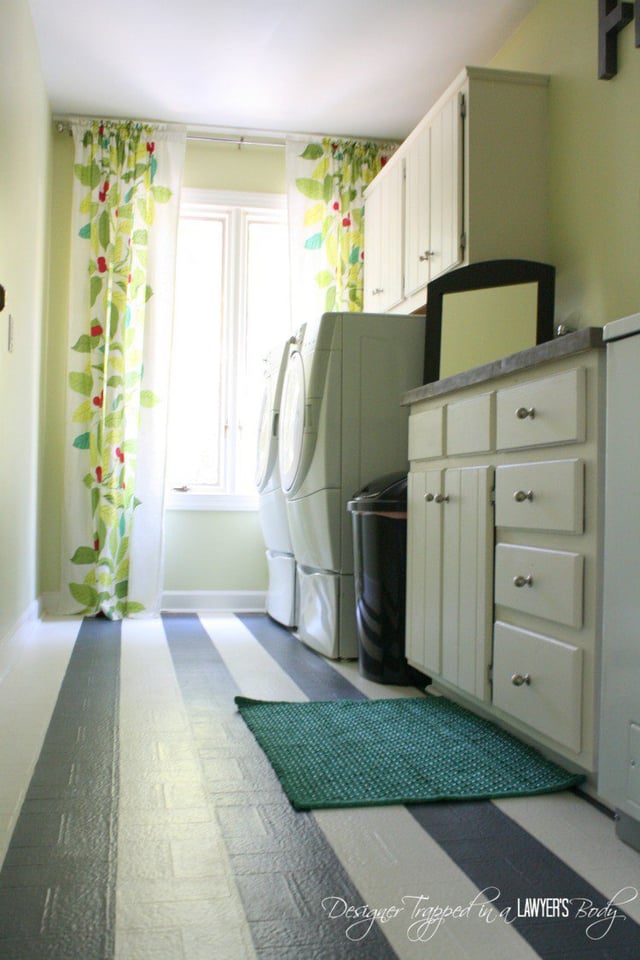 Image Source
Kitchen
Have you ever uttered the words "I want a new kitchen"? Remodeling a kitchen can be a strenuous task. But there are smaller home improvement projects that can provide lasting happiness and benefits when it comes to your kitchen.
One easier way to upgrade a kitchen is to tile a backsplash. Just changing up this one detail can totally change a space and make everything feel new. The budget decorator put together a variety of ways to tile a backsplash that can get your creative wheels turning.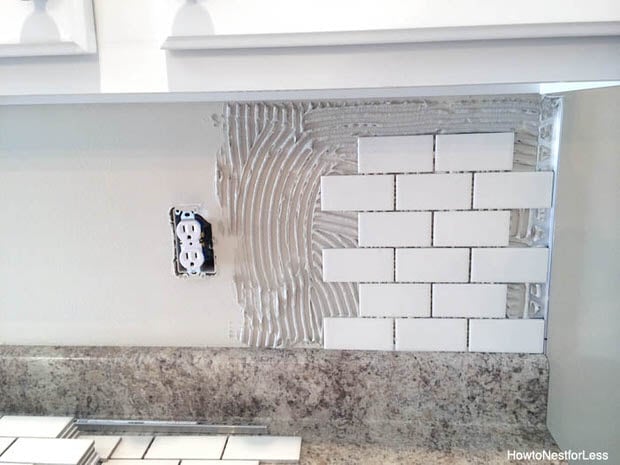 Image Source
You watch any home improvement show, and everyone wants two things: shiplap and shaker style cabinets. Luckily, the cabinets are pretty easy to upgrade. Follow these instructions on how to prep, frame, and finish your cabinets, then add some stylish new knobs and you won't even recognize your cabinets!
Have you been longing for stainless steel appliances? If you don't want to spend all the money when your appliances are still functioning, but you want that perfectly shiny finish, why not try painting your appliances in liquid stainless steel? Make sure you give your appliances a good scrubbing before applying the liquid magic.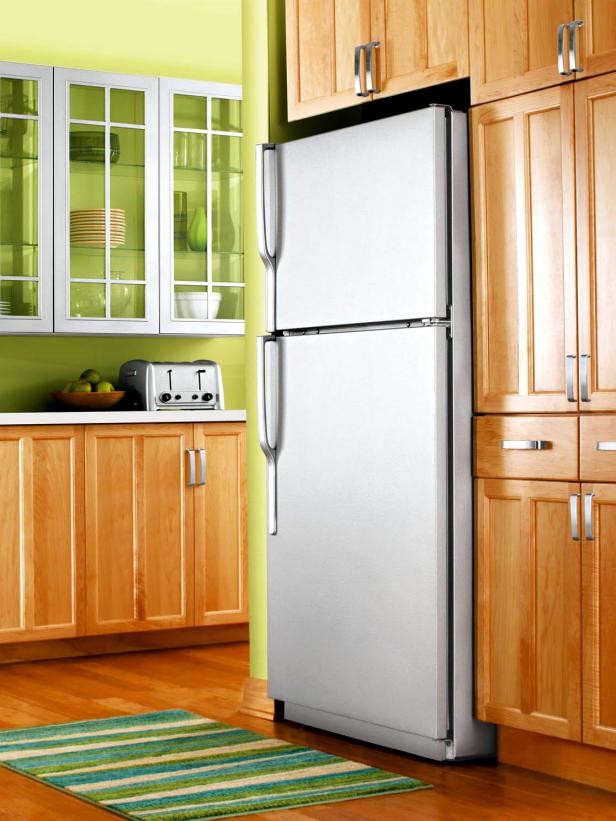 Image Source
If all of these projects seem like a lot to take on, stick with something more manageable. Sometimes you might be unhappy with your kitchen because it feels like a mess. Don't get frustrated. Instead, follow these tips and ideas to organize your way to the kitchen of your dreams.
Living Areas
Don't worry— I'm not going to suggest DIY'ing an open concept floorplan and knocking down walls (although you may want to). There are plenty of smaller-scale home improvement projects you can focus on that will fit your budget.
Are you bored with all of the plain walls in your house? Putting up wainscoting is a classic way to spice up some walls. This is a bit of a bigger project, but if you have the tools and the time, you can transform a room for just $239!
If you don't want to put in the work of wainscoting, you can achieve a similar effect by putting up beadboard wallpaper on a wall to brighten up a room. Let's be honest, wallpapering is a chore, but the result looks awesome, plus you can paint it whatever color you want to tie the room together.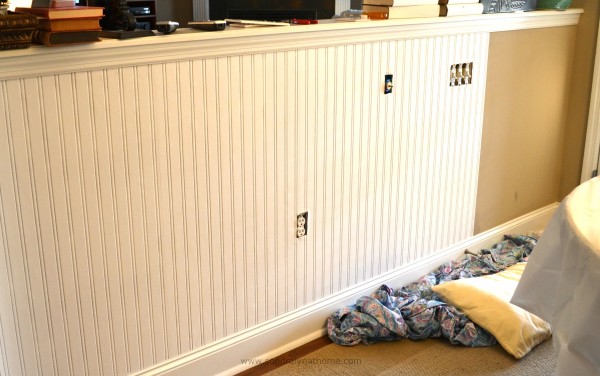 Image Source
If you're tired of staring at the carpet that's clearly seen better days and you want to live a life of hardwood floors, tear it up! It might seem scary to start, but once you get going, tearing up the carpet on your stairs and floors will leave you smiling.
Barn doors exploded onto the home improvement scene a while ago, and their popularity hasn't dwindled. If you want to hop on this trend, you can do so fairly easily and in not a lot of time. Sliding barn doors are the perfect solution for those awkward closet areas, or they're a great way to close off a space in style.
Lawn and Patio
Come spring, it'll be safe to bring your patio and lawn furniture out of storage. Give it a good wash and rinse to clean off the dirt, dust, and— probably —cobwebs that have accumulated. If they've seen better days, a can of spray paint can go a long way to refinish your furniture. But if you're considering buying all new furniture, check out this low-cost option that makes industrial feel very homey.
You might not have any eyesores in your house like shag carpet, but do you have to stare at your clunky AC unit all spring and summer long? There are tons of tutorials on Pinterest about how to disguise it. This project will take a good deal of time and manpower, but the result it awesome.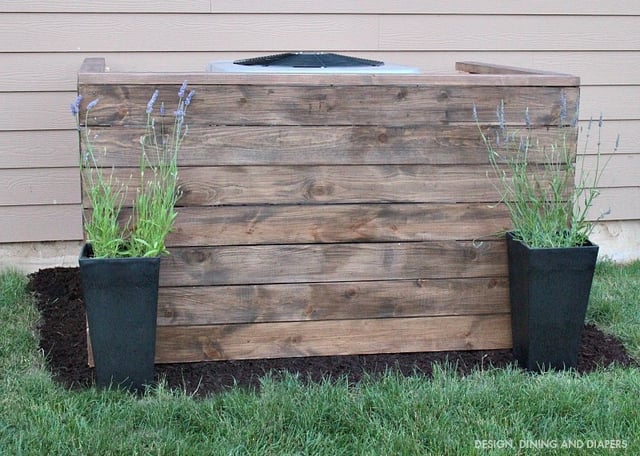 Image Source
Have you always dreamt of having a fire pit in your backyard? You're a short project away from having the perfect excuse to eat smores 24/7. Plus, once you put in the fire pit, you can build this cute bench to avoid the inevitable scrounging around for lawn chairs.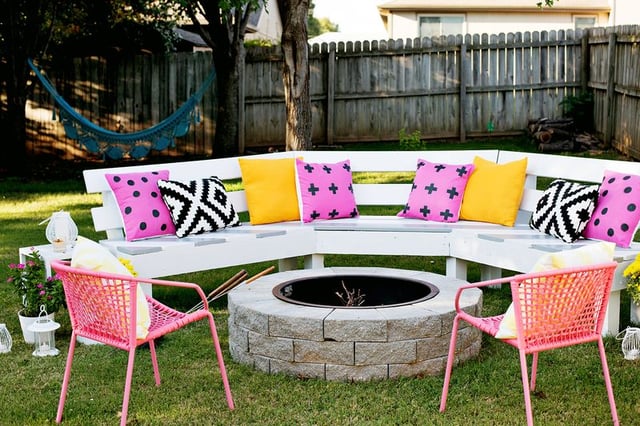 Image Source
Of course, there are tons of other quick and easy home improvement projects on Pinterest that might spark your interest, but hopefully, this post can serve as a jumping off point when you are looking for a weekend project!
Editor's Note: This blog was originally published on April 27, 2017, and was updated on January 16, 2018 to include an infographic from Foundation Repair Services.
Next Steps:
To learn more about using gift cards to raise money, download our free Scrip Fundraising Starter Kit below: