Raise Money While Shopping for Back to School

It's hard to believe, but it's that time of year again! While your kids may be dreading the end of summer, they might perk up at the prospect of picking out shiny new school supplies and gear for the coming school year. You might be dreading your kids going back to school too, for another very good and expensive reason: you're footing the back-to-school shopping bill.
We don't blame you. This year, parents with kids in K-12 plan to spend an average of $673.57 on school supplies, clothing, shoes, and electronics. Savvy shoppers watch for sales, scour coupon sites for deals, and budget accordingly to help curb these expenses. But what if you could be doing more?
Running a scrip fundraising program through your school, sports team, music program, church, or other nonprofit provides you with the opportunity to earn large rebates on the back-to-school purchases you're already planning to make. The money you earn will go toward your organization's fundraising efforts, as well as help reduce your own individual fees and expenses.
See the infographic below for an example of how these rebates add up. You won't want to miss out on saving with scrip this back-to-school season!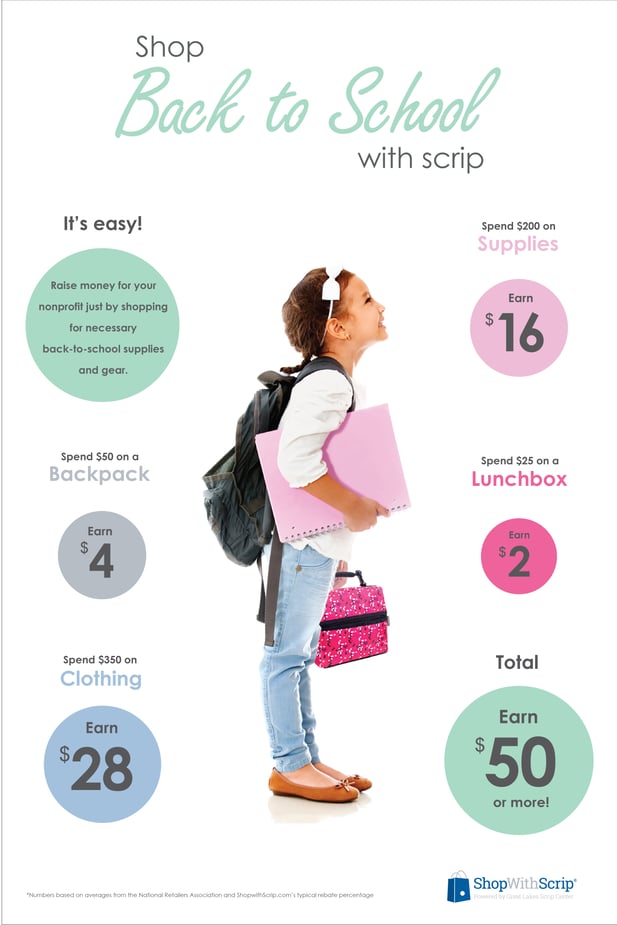 Does scrip sound like a great fundraising option for your program? Download our School Scrip Fundraising Starter Kit to learn how to get started.
Next Steps:
Have other ideas about saving on back-to-school shopping? Leave us a comment below!
Get ready for the season and follow our Everything Back-to-School board on Pinterest.