Quick Guide to Graduation Party Planning
Are you a parent of a grad? The end of this school year is certainly an exciting time for you! But with that excitement comes stress. There is a ton to do and not a lot of time to do it, so here is the step-by-step plan to get everything in order so you can properly celebrate your special graduate.
The Spruce put out a list of everything you need to accomplish before throwing your graduation party. They broke down the process of party planning into eight easy-to-follow steps:
Setting the budget and guest list— these are two of the most important tasks so you can plan everything else accordingly.
Pick your location for your party— parks are a great option if you don't have a ton of entertaining space.
Pick the time— remember you might be competing with five other open houses that day, so don't stress too much.
Theme— do you want to decorate in high school colors or college ones, or have it be themed like a luau?
Plan the menu— whether you're going to cater food or prepare your own, you need to decide what food you want. Will you need snacks or dessert? Will you serve alcohol?
Send invitations— find a few cute pictures of the graduate and create an invitation that you can quickly send out to your guests.
Decide on decorations— think about your theme and go from there. You don't have to be crafty to have cool decorations. Just make a list of all you want and start checking projects off.
Entertainment— No one wants to have a boring party, so take the time to create a music playlist to have in the background, and have a few yard games guests can play.
With this list in mind, you can start finding ideas to bring everything for your graduation party together!
Graduation Party Decorations
Some of the most fun you can have with a graduation party is decorating— yes, even if you aren't a crafty person. Choosing the décor can be as labor intensive as you want, but the important things to have are a gift table where guests can put cards and presents, and some photo boards that are a fun way to show off the graduate.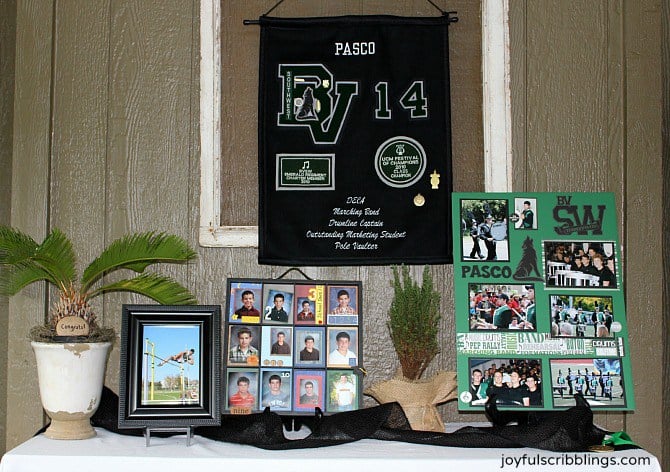 Image Source
Have your graduate be in charge of their display. They know what pictures they want out for all to see. Plus it's fun for them to see how much they've changed since their elementary school days.
Some people roll up their sleeves and make a card box that looks just like a graduation cap, but you also have time to buy one at a party supply store or online. If all else fails, you can stick a label on a basket you already have.
If your graduate is fine with being slightly embarrassed, go all out and line the driveway with cute school pictures through the years. You can tape them to stakes in the ground for a literal walk down memory lane.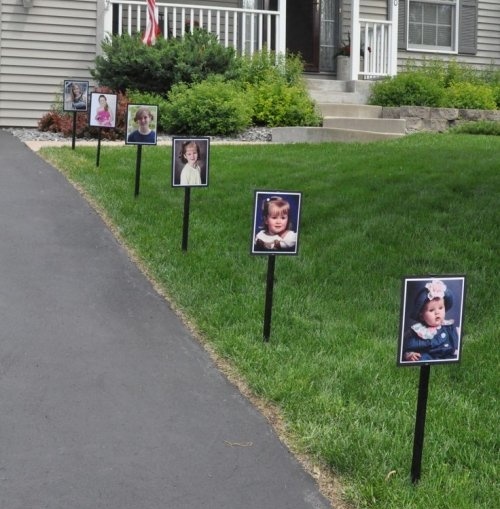 Image Source
When it comes time to purchase tablecloths and other decorations, have a set color plan in mind. If your child is heading off to college, consider having half of the colors from high school and half for their college. It will generate some excitement about their future that is quickly approaching a reality!
Graduation Party Supplies
The biggest part of a graduation party is scrounging up enough tables and chairs for your guests. If you've got a decent supply, reach out to your friends and neighbors to see if they have anything you could borrow for the day. You can also rent tables and chairs if need be, it just might be pricier.
Think about whether you're putting food outside or keeping it inside. If you are keeping everything outside, you'll need coolers or an ice bath to put all of the cold foods on. One hack is to buy a kiddie pool that you can fill with ice and then lay out your spread. That way you won't have to run back and forth to the kitchen during the party to restock food, and you can keep a lot of foot-traffic out of your house.
If you're planning on having this party go into the night, you'll want to provide guests with bug protection. Set out some citronella candles, or just have a basket of bug spray that's easily accessible for guests.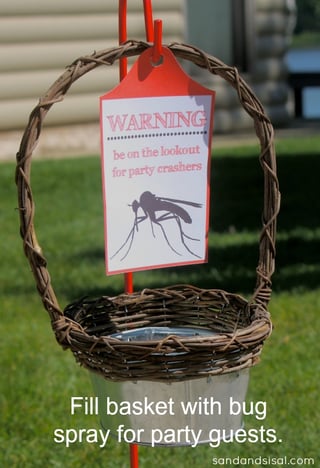 Image Source
Finally, if you don't want to fuss with making a nice trash and recycling can, you can buy cardboard trash cans for a reasonable price that can handle a load. These might seem impractical to buy now, but if you have a few more potential graduates in your family or you have other party-planning responsibilities in your future, it's worth the investment.
Graduation Party Food
While catering food for a graduation party is a safe bet, and will surely lighten your workload, there is one tried and true crowd-pleasing party food if you want to do it yourself: the taco bar. The draw of a taco bar is it's easy to prep all of the ingredients in bulk, and the meal is customizable for each guest. Just make sure you have enough crockpots or warming trays on hand to keep the fixings warm. You can even take this up a notch and serve a walking taco bar for easier cleanup.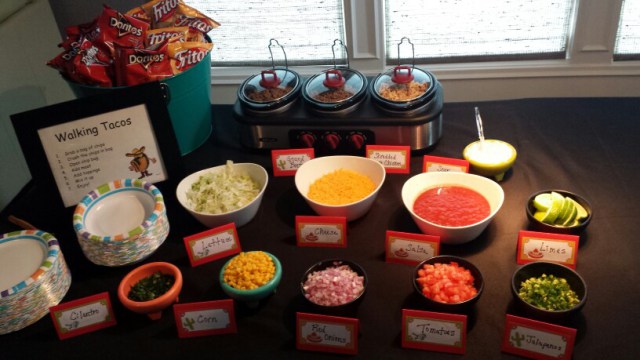 Image Source
Obviously, you'll need to figure out what beverages you want to serve. While sodas and bottled water are pretty standard, you could also make big containers of lemonade and iced tea for a good variety. This is an especially good hack if your graduation party is away from home and you don't want to haul multiple coolers around.
Then comes the sweets. An easy option is to order a cake, but if that's not your style, you could get crafty and make these cute candy cup caps that use a Reese's peanut butter cup, a square of chocolate, and an airhead candy. For a quick dessert that pairs well with coffee and is a bit simpler, try making these diploma cookies. All they are is a Pirouline cookie with a ribbon around it.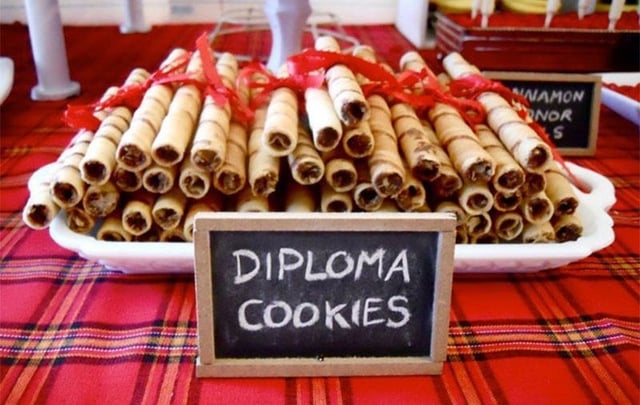 Image Source
You've still got some time to hammer out the details of your graduation party. Follow these tips and party planning will be a cinch!
Next Step:
You could raise money for your school while you're planning this graduation party by making your purchases with scrip. You can even use it for things like the invitations and decorations!