One-Pot Pizza Pasta Makes Your Dinner Dreams Come True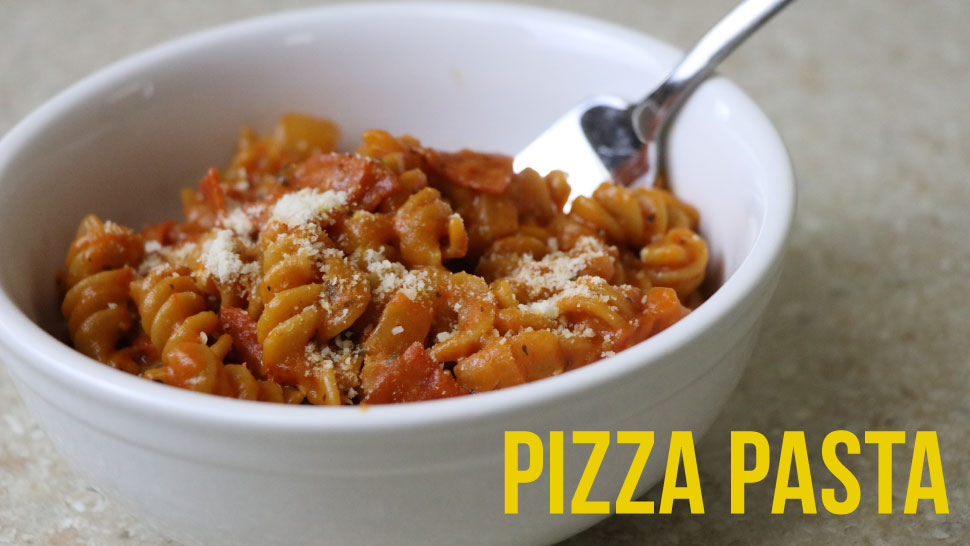 Pizza is delicious. Pasta is also delicious. Pizza pasta— is that even possible? Absolutely.
Now, we're not talking about taking a pizza and cutting it up to add to pasta (although that would probably be incredibly tasty). Instead, this one-pot pizza pasta takes the best of both items and combines them in a quick and easy meal you can put on the table in 15 minutes. And contrary to its name, this dish we adapted from Fake Ginger is a healthier way to bite into your cheesy, meaty pizza and pasta cravings!
What you need:
Ingredients for 4 servings
Olive oil
8 ounces of turkey sausage
1 onion, diced
2 cloves garlic, minced
1 cup pepperoni (or more!)
1 jar of pasta sauce (use one with veggies for hidden health)
2 cups water
8 ounces rotini noodles (we used Whole Wheat)
salt and pepper
2 cups Italian blend cheese
Parmesan cheese
Instructions:
Heat the olive oil in the pan, then add the sausage and onion. Cook until sausage is brown and the onions are translucent.
Add garlic and pepperoni, then stir in the pasta sauce.
Add in water and the noodles and bring it to a boil.
Boil the pasta for 10 minutes.
Add salt and pepper and Italian cheese.
Serve the pasta with a sprinkle of parmesan cheese.
Enjoy!
Next Steps: