7 Tips for Stress-free Spring Break Travel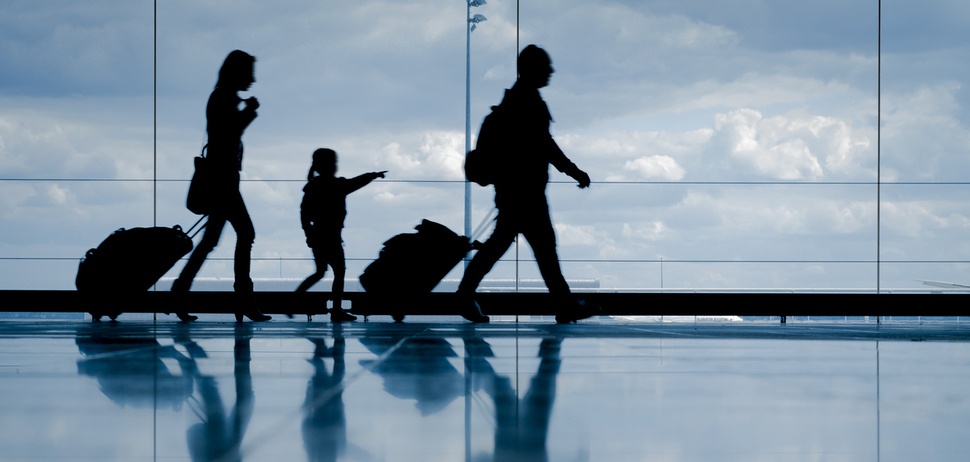 It's about time to start thinking about your spring break travel plans! Most of us love vacations, but preparing for a trip and actually traveling can often be a little stressful, especially if you're flying. There's the packing, the airport lines, the threat of delayed flights...a lot can go wrong! These suggestions will help ease your mind and save you money, time, and possibly your sanity.
1. Book Cheap Flights
If you've waited until the last minute, check out the different cheap flight sites, like Priceline and Kayak, then book the flights on the airline websites. If you fundraise with scrip, you can use gift cards to pay for flights on some of the bigger airlines. A handy app called Hopper tracks when flight prices are going to be the lowest, so you can jump on them at just the right time and save even more money.
2. Buy Travel-Sized Toiletries
You can buy travel-sized shampoo, conditioner, toothpaste, hairspray, lotion, and other products at most grocery stores. Not only will these miniature bottles save you space in your luggage, they'll also help you glide through the TSA line without a hiccup so long as you pack them in a quart-sized bag.
If your favorite brand of product doesn't come in a travel-sized version, it's also pretty simple to buy travel-sized containers and transfer a small amount of products you already have into them. If you take this route, you'll never run out of travel-sized toiletries so you won't have to worry about a last-minute trip to the store!
3. Save Some Space
If you want to avoid the need for checked bags (not to mention the gouging costs and potential for lost luggage), one way to save space in your suitcases is by rolling up clothes, instead of folding. This also helps avoid wrinkles and creases. Stuff socks, underwear, and bathing suits into your shoes to save some more precious room!
Another genius tip is to pack in outfits, not in separates. Then you can zip up your outfits in zip-top bags to keep them organized. This packing tip is a must-do if you have younger kids. You can even throw a dryer sheet into each bag for the freshest clothes ever!
If you're still concerned about the space in your suitcase, write a list of all of the absolute essentials you need. If there's anything in your suitcase that's not on the list, leave it behind.
4. Weigh Your Suitcases at Home
If you are checking a couple of bags, avoid the nightmare of arriving to the airport only to have your suitcase exceed the weight limit. Just place the suitcases on a scale at home, but make sure you're doing it on a hard surface as carpet doesn't give you an accurate reading.
It's best to be a few pounds under the limit, just in case your scale at home is a little inaccurate. Plus, then you'll have room for souvenirs or anything you might purchase on a vacation shopping spree.
5. Download Your Airline's App
Most airlines nowadays have mobile apps that make traveling so much easier. With your airline's app, your boarding passes are downloaded right to your phone, so that you don't even need to print them out! You simply pull it up on the screen and your phone will be scanned just like a paper boarding pass, which is perfect for juggling the whole family's passes.
The free apps also allow you to check in right from your phone, choose your seats, and they provide you live updates on if your flight is on time or delayed. You definitely don't want to miss out on all that convenience when you're headed on your spring break trip.
6. Beat Airport Security Lines
No one enjoys waiting in the security line at the airport, especially with your crew of kids. But it doesn't have to be miserable! The first key to a smooth security process is not rushing. Lucky for you, there's an app for your phone called My TSA that allows you to check on wait times at security, so you can gauge when the line is shortest and plan on what time you'll need to arrive at the airport.
If it's possible, expedite the process by wearing slip-on shoes and ditching the belt as these are some of the biggest hassles in going through security. Also remember that you can pack an empty water bottle and packaged, non-liquid snacks for you and your kids without any difficulty. Packing these essentials will save you tons of money compared to purchasing it all at the airport.
7. Unpack Immediately
Even though you might be jetlagged and exhausted when you finally arrive at your spring break destination, you will thank yourself later for unpacking immediately. This way, the task won't hang over your head and become daunting, and you can wake up the next morning with nothing but fun, vacation-y things on your agenda.
These suggestions might alleviate some of the stress that comes with traveling. Now you can relax and continue counting down the days until your family's spring break getaway!
Next Steps:
No travel plans yet? Order scrip during the month of February to enter a chance to win gift cards for a much deserved getaway!

Use scrip to earn money back on future travel purchases, like flights and hotels!