6 Easy High School Graduation Gifts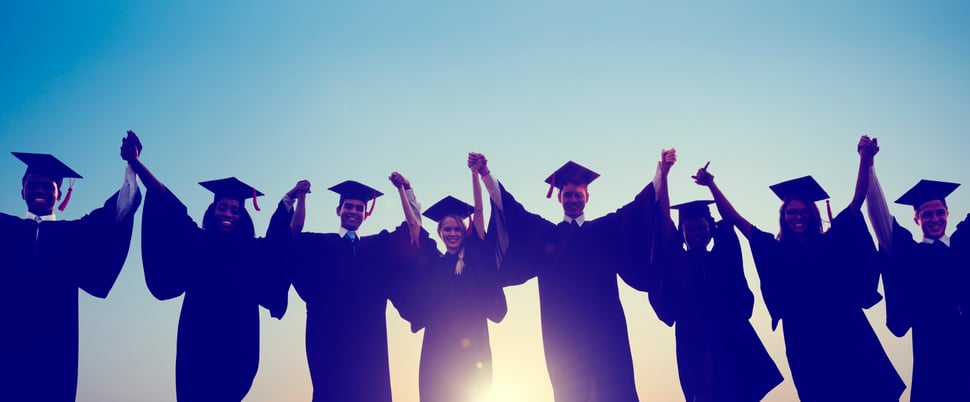 We are in the throes of graduation season. Hopefully, if you have a graduate, you've got their party entirely planned at this point, but have you taken the time to get graduation presents for all of the celebrations you've been invited to?
Well, there's no need to panic, even if you're strapped for time. There are tons of great high school graduation gift ideas that can be as personalized as you want that you can put together in no time.
Laundry Kit
It's inevitable and unavoidable: every college student has to do laundry. You can save the day and help them check "laundry supplies" off of their things-to-get-list by putting together a full laundry supply kit.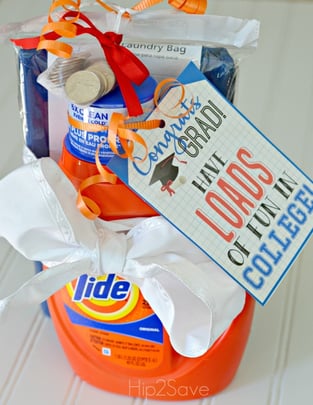 Image Source
First, find a cool laundry basket that can fit a sizeable amount of clothes. Then after a trip to the store, stock the basket with detergent, fabric softener or dryer sheets, and a bottle of stain removal spray (because you know stains are going to happen), and top it off with a bag full of quarters. You can even print off a cute tag to tie the gift together.
Cleaning Supplies Kit
Here's another clean living idea: assemble a cleaning supplies kit for the graduate. We all know their dorm room won't be the cleanest place on campus, but if you give them things like cleaning wipes, bathroom cleaner, a duster, and a broom things might stay a little tidier. Make sure to include air freshener too, so they could fake freshness when the parents stop by unannounced!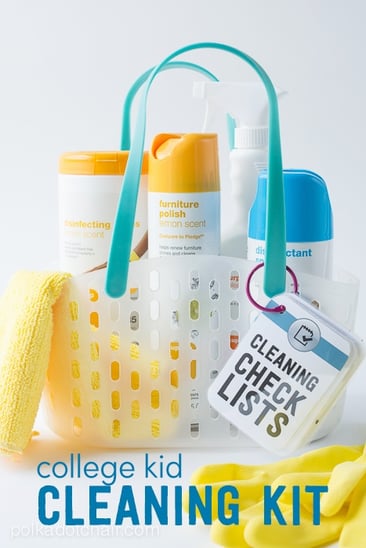 Image Source
Dorm Room Food Kit
Now onto a kit idea the graduate will really enjoy—a basket full of dorm-friendly foods. Best case scenario, the graduate has a mini fridge and a microwave in their dorm room. They might not even have a car on campus to get to the store, so assemble a kit of all things easy and microwaveable for them. Here's a list to get you going:
Ramen noodles
Easy Mac macaroni and cheese
Packages of instant rice
Cup of soup
Popcorn
Single-serve oatmeal containers
Granola and protein bars
Pop tarts
Instant coffee or tea bags
Pack all of the food in a crate that they can easily take with them on campus and store in their dorm room, and throw in some disposable utensils to round out the kit!
Gift Cards
Does your school run a scrip fundraising program? Pick up some gift cards at your school or order some on ShopWithScrip.com so you can raise money while gift-giving to graduates.
Regarding what gift cards to get, you can take two routes: one larger denomination card for stores like Bed Bath & Beyond or Target, or multiple smaller denomination cards for things like coffee or a quick bite. If you take the latter approach, you could make a cute gift card book to keep the cards together.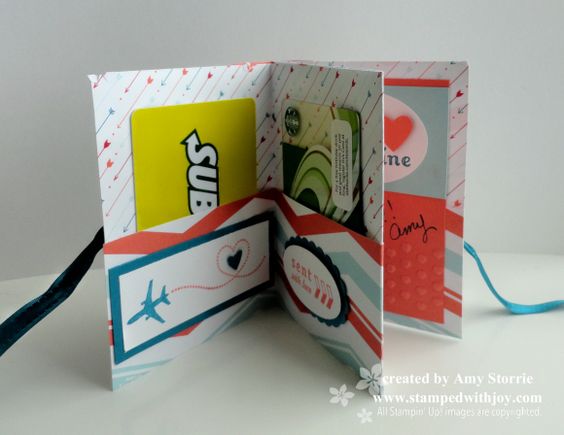 Image Source
Fleece Blanket
Are you one to get crafty? Help make the graduate's new dorm room cozy by making the ever-popular no-sew fleece blanket. Grab material in the graduate's college colors, or some that even has the logo on it and get to not sewing!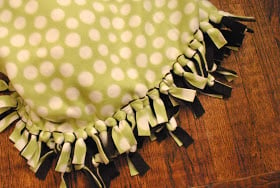 Image Source
There are a couple of siding variations for a no-sew blanket; you can stick with the classic fringe, or try your hand at a braided edge. Either way, take this tip from Pieces by Polly and use painter's tape to mark your cuts.
Cash
If nothing else jumps out at you, any graduate would appreciate money. Whether you put it in an envelope with a card or rig a DIY way to gift it, the graduate will be thankful for a gift that they can use whenever and wherever they need to.
Have these six graduation gift ideas inspired you? Now you can celebrate all of the important graduates in your life and send them off with special gifts.
Next Steps: