4 Ways to Save on a Tailgate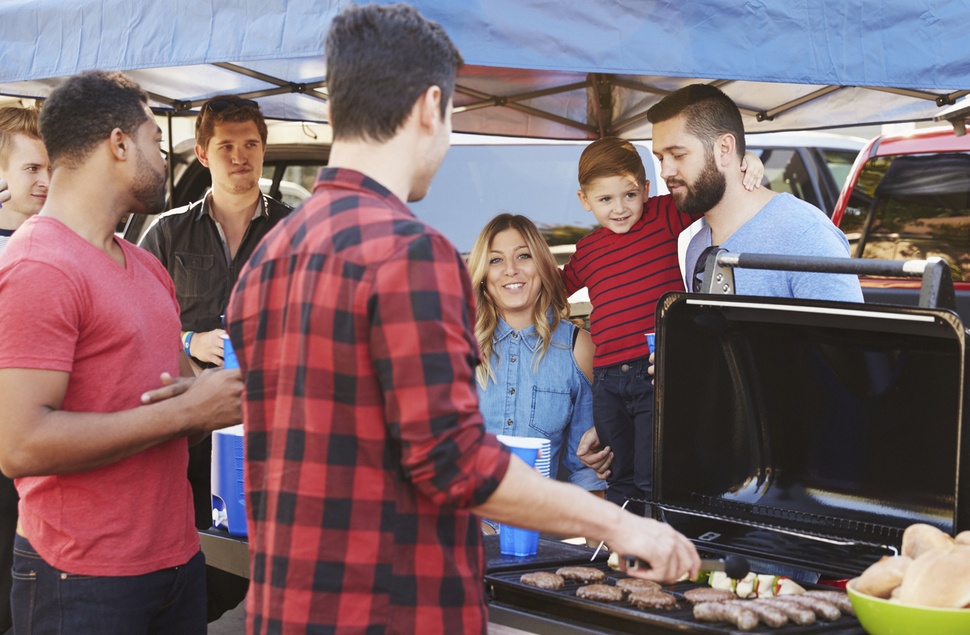 Every fall, people across the nation don their team's paraphernalia, load up the car with food, drink, and supplies, and make the trek to the stadium to partake in one of America's favorite pastimes: tailgating.
There are an estimated 50 million tailgaters in the US who spend up to $12 billion every year on this activity. At the NFL level, tailgaters spend an average of $196 just on food, beverages, and supplies per game, which adds up to an average of $588 for the course of a season. That's not even including the cost of gas, a hotel stay, or even tickets to the game!
It can seem like a lot of money to spend on a leisurely activity, but it's almost like a rite of passage for a football fan. Plus, there are ways you can save if you want to try your hand at tailgating.
1. Ask Friends if They Have Gear
Unless tailgating is something you want to add to your weekend routine, it might be worth it just to check with friends to see if they have big equipment like a tent, portable grill, and folding table.
2. Stock up at the Grocery Store
Make room in your freezer before you go to the store, and stock up on all you need for hamburgers and hotdogs. Keep an eye on sales so that you can get the best deal on things like chips, sides, and plasticware.
3. DIY Some Tailgating Games
Those fun games you see like corn hole and ladder golf can cost a pretty penny. You can save some money by making them yourself! Not only is it a fun project, but you can also personalize your games with your team's colors.
4. Make Purchases with a Card That Gives You Money
You've probably seen the commercials for cash back and reward points credit cards. While making some big tailgating purchases with a card like this is a good option, you can earn even more if you pay with a scrip gift card.
Take a second to think if there are any areas in your life where you have to fundraise. Do you have to raise money for your kid's school, sports team, or music program? Or maybe you need to raise money for your church? If you came up with one, then scrip could be a viable option for you. Just look at how much you can earn on all your tailgating necessities: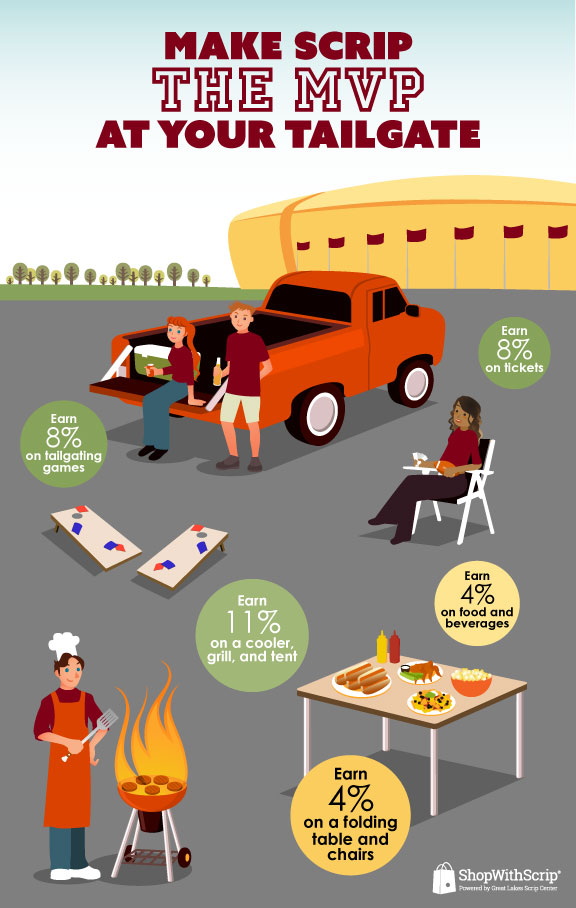 Tailgating doesn't have to break your bank. Follow some of these ideas to save money and join the faithful football fans this fall!
Next Steps: