13 Ways to Save Money on Groceries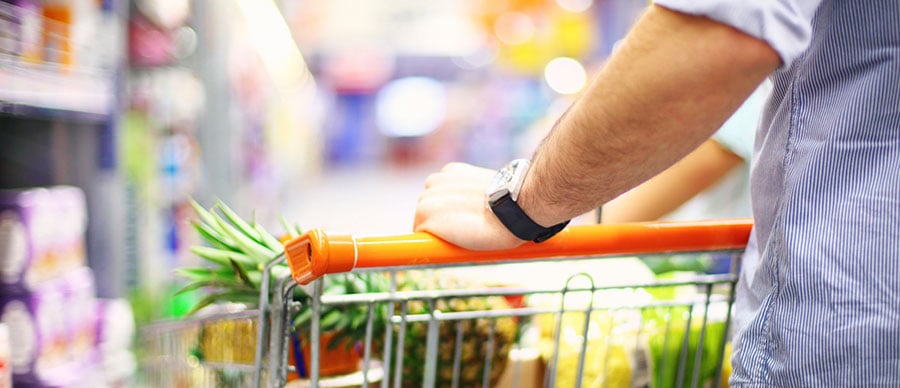 Grocery shopping. Very rarely will someone say they enjoy this weekly chore. In fact, the pain of going to the grocery store has been heard and resulted in multiple grocery delivery services popping up recently. Now you can simply shop from your home, and someone brings your items to you. But of course, that comes with a cost that might not fit into every families' food budget.
Speaking of budgets, groceries can get expensive, especially when you end up at the store a couple of times a week just to pick up that one extra thing. So if you're still a traditional grocery shopper who wants to limit the frequency of your trips to the store and save money, take a look at these 13 ways to save on your groceries.
Before You Go Grocery Shopping
1.

Write down an inventory

Before you even make your shopping list, go through your pantry, fridge, and freezer and write down everything you have stocked up. It's a good idea to group similar things so you can see what you need at a glance. While this might seem like a lot of work before you even go to the store, it will come in handy when you are staring at cans of beans, and you don't know whether you need them or not. Plus, you might find you have all the ingredients you need to whip up dinner without having to go to the store! If you don't want to create a spreadsheet, there are a ton of free inventory forms on Pinterest that you can print.
2. Meal plan
Seeing what you have on hand in your inventory allows you to start brainstorming meals you can make throughout the week. Then you can pull a few recipes and see what ingredients are missing that you should add to your list. Try and think of a couple of different meals that all use the same key ingredients, that way, you can use up absolutely everything you buy with minimal food waste.
3. Make a shopping list
You should have a good handle on what you need based off of your inventory tracking and meal planning, but write it all down! No matter how good you are at remembering what you need, making a list is a foolproof way to ensure you are not overspending or forgetting anything. If you can find your store's weekly ad, jot down the items that are on sale so you're prepared.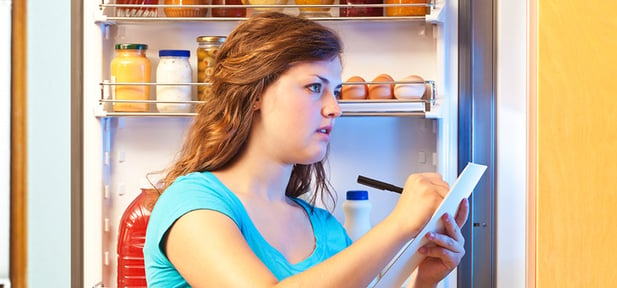 4. Clip grocery coupons
If paper coupons are still your thing, keep breaking out your scissors. But most stores offer digital coupons that you clip online and are stored on your account. While it can be easy to over-clip these coupons, make sure you are only using coupons for items you actually need. An easy way to slow your coupon-fever is to go back through your list and write down the specifics for the coupon to apply.
5. Don't shop hungry
As they say, your eyes tend to be bigger than your stomach. If you grocery shop when you're hungry, you are more likely to fill up your cart with high calorie, junk foods, which will cost you more money. So either shop on a full stomach or at a time when you are not as inclined to feel your stomach grumble so your willpower will remain unshaken.
6. Only bring cash
A major way to save money and limit overspending at the grocery store is to budget your money and not spend a penny more. One method for this is to use the envelope system and bring your grocery money in one envelope and only use that at checkout. This also works well if you have a scrip gift card you bought from ShopWithScrip, where you can use only what is on the card. The bonus with scrip is that you will also earn a rebate on the grocery gift card when you purchase it at face value.
When You're at the Grocery Store
7. Shop in-season produce
You will save big when you buy fruits and vegetables that are in-season. Here is a handy chart that shows you what fruits and vegetables are in season at different times of the year. However, if you are dying for berries that are out of season, don't pick up the pre-packaged containers. Instead, head over to the freezer where you can find big bags of frozen fruit at a lower price.
8.

Don't succumb to convenience

Just like pre-packaged fruit, "convenience items," like washed and packaged lettuce, containers of deli meat, and bagged frozen meals cost more than a scratch-made meal. Even something as small as buying a package of shredded cheese will cost you more than buying a block and grating it at home. You might be sacrificing convenience, but you'll be getting less processed food for less money!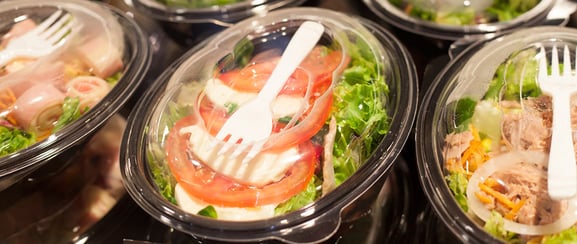 9. Store brand vs. Name brand
Buying store brand over name brand can be a tricky decision, especially since some of the products are practically the same, they just look a little different! Unfortunately, there are no easy and fast rules like "store brand is always the best option." Sure, store brand is cheaper, but the quality might also lack a little bit. For a baseline guide, take a look at this article that breaks down when you should avoid store brands.
10. Shop on sale, even if it's not on your list
We know you added some of the sales items you need to your shopping list already, but what happens when you see something on sale in the store that you didn't write down? Here's where your inventory sheet comes in. Check and see if you have the product on hand, and if you don't, but you will need it in the near future, take advantage of the sale!
11. Avoid the inner aisles
The inner aisles of a grocery store contain a lot of non-essential and junk food items. Kill two birds with one stone, save money and be healthier, by staying to the store's perimeter. Now you might have to quickly go to these aisles for things like pasta, rice, or oatmeal. But just stick to your list and only shop these aisles for what you absolutely need.
Saving Money Once You're Home
12. Store your groceries correctly
You just spent that time and money planning your trip and going to the grocery store, so don't let the food you purchased go to waste! Maximize the groceries you have by learning how to store them with this comprehensive infographic.
13. Analyze your receipt
When you're establishing a grocery shopping routine, it's important to check over your receipt and see that you accomplished what you set out to do- save money! Taking time to look at your receipt might give you better insight into what your grocery staples are costing you and if you are getting the best deals.
Grocery shopping doesn't have to be a chore. Incorporate these 13 tips into a system that works for you and your family, and you will save!
Editor's Note: This blog was originally published on March 25, 2016, and was updated on January 25, 2018.
Next Steps:
Want to give the envelope system with scrip a shot? Download our Info Kit to learn how it works!
Like us on Facebook.