10 Must-Try DIY's for Halloween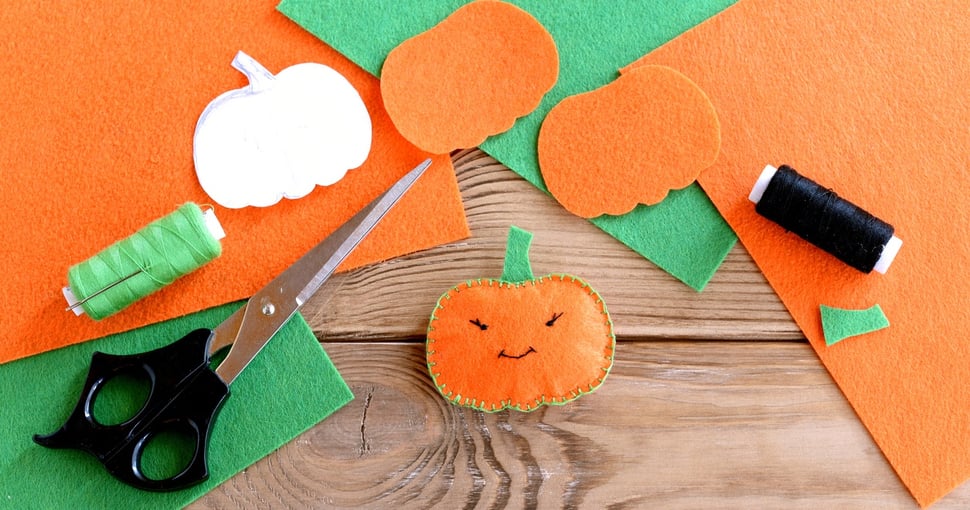 Halloween is upon us which means it's time to start planning for parties and trick-or-treaters! If October caught you by surprise, and you haven't started thinking about anything Halloween related, don't worry, we've got you covered.
Here are ten do-it-yourself Halloween projects spanning from house decorations to sweet treats, and costumes that will help you to prepare for October 31st. They're all fairly easy and don't require a lot of planning, which is something we all look for when it comes to festivities for holidays.
Outdoor Decor
1. Jack Skellington Door
Are you a The Nightmare Before Christmas fan? Make your house festive with this easy Jack Skellington door decor! All you need is:
Three sheets of 8.5" x 11" black paper
One roll of black electric tape
Use black electrical tape to secure the eyes and nose to the door. Create the mouth using the black electrical tape. Voila! In 20 minutes you have a scary Halloween welcome for all the trick-or-treaters.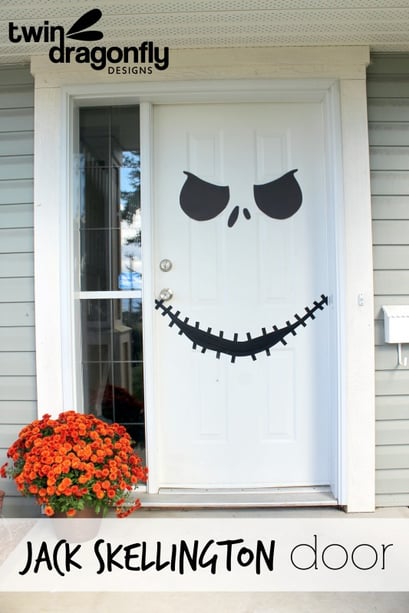 2. Hanging Bats
Halloween isn't complete without cute bats hanging from your tree! These hanging bats look realistic from afar and add some Halloween spirit to the fall air.
To make these bats, you'll need:
Black craft foam
Scissors
Fishing line
Googly eyes
Pencil
Craft glue
Hole punch
Simply use the fishing line to hang the bats upside down in your trees. If you want the bats to stand out at night, add glow-in-the-dark googly eyes, and you will have people spooked!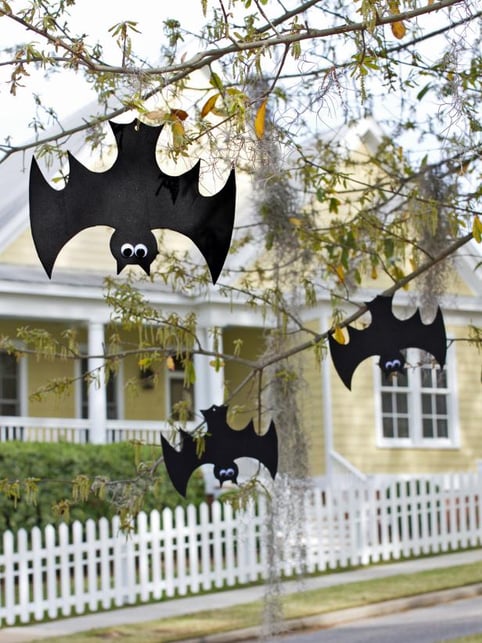 3. Scary Eyes on Trees
Want trick-or-treaters to feel like someone is watching them? Spook them out with this easy outdoor decor. Here are the supplies needed:
Glow-in-the-dark foam
Scissors
Black marker
Tip: If you don't have glow-in-the-dark foam, use construction paper and color in with glow-in-the-dark markers!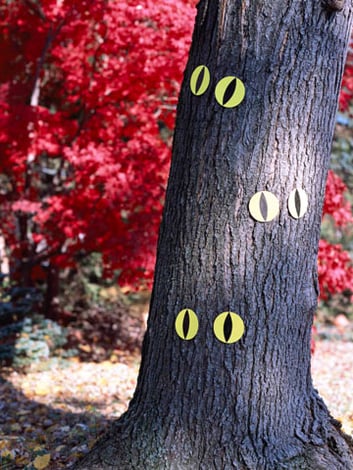 4. Easy Spider Web
Every Halloween, spider webs are everywhere you turn. Here's how you can incorporate an oversized spider into your lawn this year. Wrap a spider web made of poly blend, around a tree and stick the spider in an area where it's secure. This is an effortless decoration that will creep out the best of them.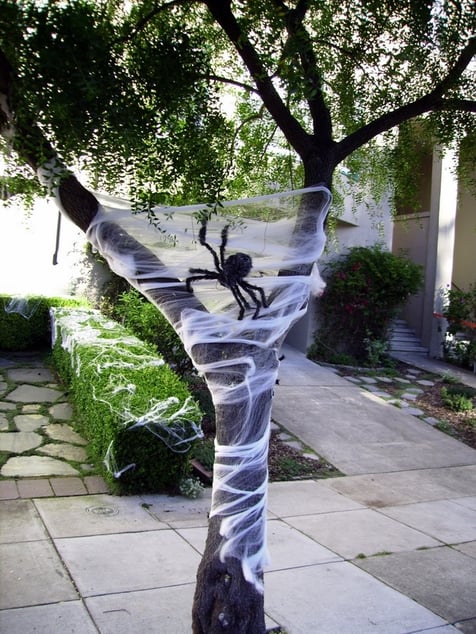 Clever Snacks
5. Meatball Mummies
Everyone needs a Halloween snack that not only looks festive but tastes good! These meatball mummies are kept together with spaghetti strung through three meatballs which are then wrapped in pizza dough to create the mummy look. They taste great and look adorable!
Supplies needed:
One roll Pillsbury refrigerated pizza dough
18 cooked meatballs
Six strands raw spaghetti
12 edible eyeballs (see how to make them here)
1 Tbsp. melted butter (optional)
Pasta sauce
You can read detailed instructions about the meatball mummies here.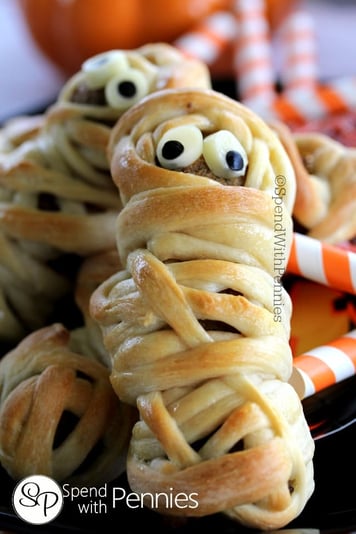 6. Lollipop Ghosts
Many Halloween-inspired treats are such a hassle to create. Luckily, lollipop ghosts are extremely easy and don't take too much of your time. All you're going to need are:
Tissues
Lollipops (Tootsie Pops or Dum Dums)
Sharpie (or black marker)
Tiny elastics (hair section at the dollar store)
Orange or black ribbon
Once you test out a few, you can start to get the hang of it, and be able to make ten lollipop ghosts in ten minutes!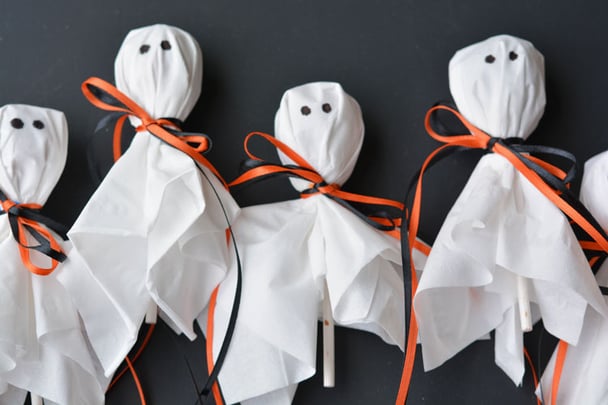 7. Halloween Witch Fingers
What's Halloween without sweets? These clever edible witch fingers are perfect for kids or adults to enjoy while watching a scary movie or enjoying a festive party.
Supplies:
14 large pretzel rods broken in half
28 almonds
Black gel food coloring
A clean paintbrush
12 oz of Wilton's Vibrant Green Candy Melts
Parchment paper
Toothpick
Watch this video below to learn how to make it!
Costumes
You might have your kids' costumes figured out (if not, here are some options), but what are you planning on dressing up as? Here are a few ideas.
8. Belle Costume
Belle from Beauty and the Beast is such a classic character that everyone knows! If you don't have any of these supplies in your closet, checking out your local second-hand store or vintage shop is a good idea. Or you can make your own!
To be Belle, you will need:
Long sleeved collared shirt
Blue knee-length dress
White apron
Black heels or flats
Books
For Belle's hair, simply twist the sides of your hair and meet them into a low ponytail. Add a bow or ribbon to hide the hair tie.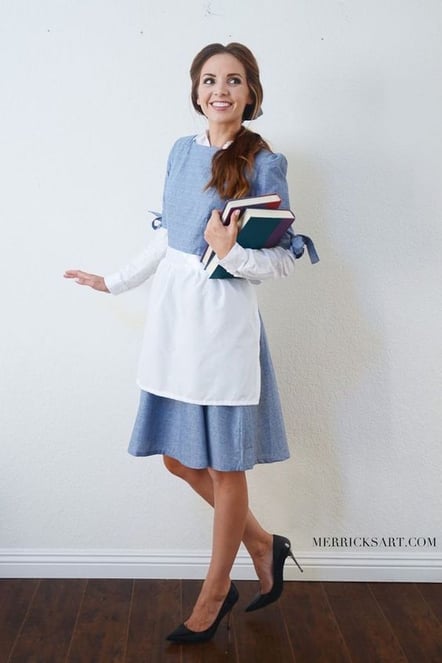 9. Minion Costume
Who doesn't love the adorable and loveable minion! Making this costume doesn't require a lot of effort and still looks cute! All you're going to need:
Yellow t-shirt
Jean or overalls
Suspenders (if you're going to wear jeans)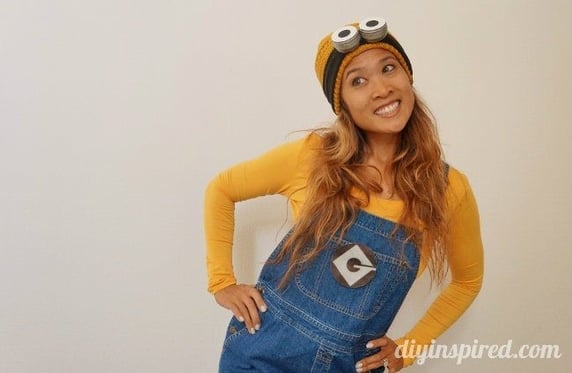 10. Breakfast at Tiffany's Costume
Audrey Hepburn's role as Holly Golightly in Breakfast at Tiffany's is iconic and can be easily created if you have a black dress in your closet. Mimic this look with:
Black dress
Black gloves (vintage shop or get them at Jo-Ann's)
Pearls
Sunglasses
Black shoes
Tiara
The hairdo to complete this look is a simple French twist, and with a little practice, you can do one too. Here's an easy tutorial. Don't forget the tiara!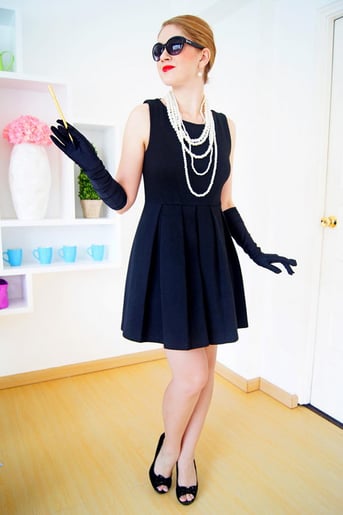 With these DIY's, from decor to costumes, you're more than prepared for Halloween!
Next Steps:
Learn how you can fundraise for your organization while you shop for your Halloween supplies by downloading our Starter Kit.
Need more ideas for Halloween? Follow our Pinterest Board!